upper house, hayfield
sophie & jon
FRENCH THEMED SUMMER WEDDING AT UPPER HOUSE, HAYFIELD
"WE WOULD REALLY LIKE TO BOOK YOU FOR OUR WEDDING DAY"
Sophie and Jon had contacted me to ask if I would be their wedding photographer for their summer wedding at Upper House. When I heard they were having a French themed wedding, I was SO excited! For those of you who aren't familiar with Upper House in Hayfield, it had Kinder Scout as it's backdrop. One of my favourite views in the whole of the Peak District.
It's easy to see why I think Upper House is one of the best Peak District venues I've worked at so far. It's beautiful inside and out and the staff are amazingly friendly and accommodating. You really do feel exclusive here.
Following on from our initial conversations, Sophie and Jon had requested that we did their engagement shoot at Upper House too.
upper house WEDDING PHOTOGRAPHY
UPPER HOUSE ENGAGEMENT SHOOT
It was a gorgeous day in April when we headed up to Upper House. You'd be forgiven to mistake it as a summers day from the photos, the sun was shining and even though it was cool, it was perfect to do the shoot.
SUMMER WEDDING AT UPPER HOUSE – WEDDING PHOTOGRAPHY
August quickly came round and I was so excited to be shooting Sophie and Jon's big day. However, when you think of an August wedding, you think of blue sky and sunshine all day long! The morning greeted us with torrential rain but this absolutely didn't dampen Sophie and Jon's spirits.
GROOM PREP
First stop of the day was at Jon's grooms house to shoot the groom prep. Jon and his best man were unbelievably calm, they were up, coffee brewed and everything was in check. I love shooting groom prep, it's not very often I get to shoot bride and groom prep. It's nice to see the guys getting suited and booted and seeing their excitement and nerves develop throughout the morning.
BRIDAL PREPARATIONS
Next it was time to head over to Upper House to photograph Sophie and her family getting ready. Sophie was so chilled out when I arrived. Her hair makeover in progress and everyone in great spirit, despite the weather outside. Once her hair was complete, it was time for make-up and some glamorous photos to match her glamours French theme.
Once the bridal party photos were taken, it was time to head upstairs to photograph the detail shots. Sophie's dress was absolutely stunning and there's no denying that Upper House have amazing rooms to display such a beautiful garment.
Sophie's mum was there to help her into her dress followed by lots of laughter with the bridesmaids – who were dressed in gorgeous matching cobalt blue dresses.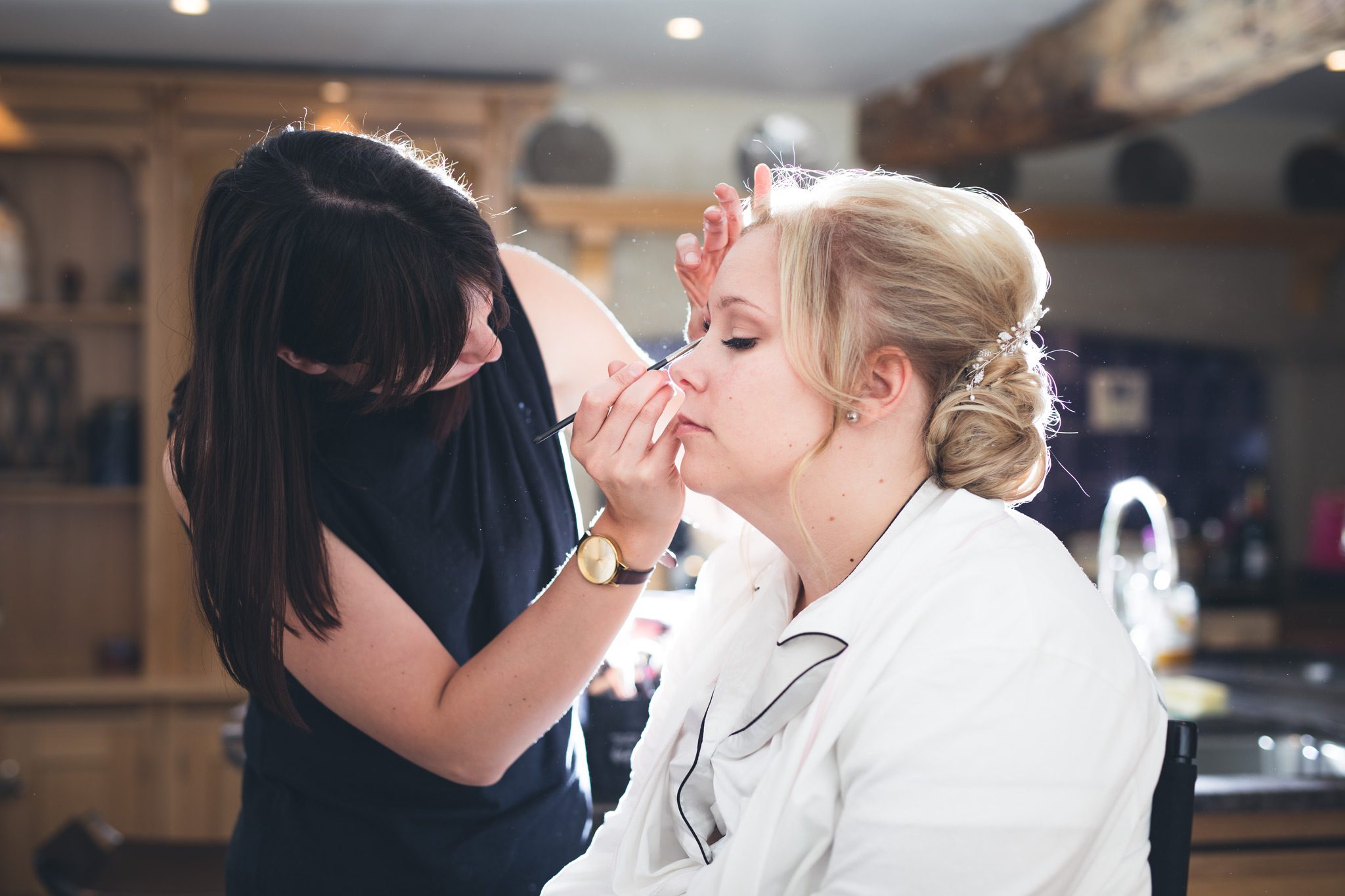 bridal portraits
In addition to the bridal prep shots, I always try to include the final part of the bridal preparation. This is the bridal portraits once the bride is ready. It's hard to take a bad photo when Sophie is absolutely stunning! She absolutely rocked her bridal portraits and I was really pleased with the results.
the ceremony
Whilst I was waiting for everyone to add their final touches to their hair and make up, I head downstairs to shoot the ceremony room and features. The ceremony room at Upper House is beautiful. Sophie and Jon's French themed details really added to the rustic feel.
THE service
Sophie's brother Robert walked her down the aisle and the whole room was filled with cheer and happiness. The service was really lovely and I was excited for the following parts of the day.
THE SUN CAME OUT!
In the brief moments after the service, the sun made an appearance! I ushered everyone out super quick to capture the group shots. Don't you agree, the boys look pretty dapper?
ROOM DECORATIONS
The wedding breakfast room looked absolutely beautiful, the French theme ran throughout the decor, including their cake! It wasn't long before the guests piled in for the speeches and food, which was Provided by Samuel James Events.
COUPLE SHOTS
Following on from the wedding breakfast and speeches, it was now time for the couple shots. As the rain outside hadn't given up, I suggested we use the excellent interior of Upper House. The staircase and wooden walls made wonderful features in their shots.
first dance
The final part of the evening was the first dance. Sophie and Jon looked so elegant as they glided across the dance floor. It was such a perfect end to a perfect day, one that I thoroughly enjoyed shooting.
Thanks for looking,
Are you having a wedding in the Peak District? If you're looking for a wedding photographer, you can find more of my work here or contact me here.
Struggling to plan your wedding day? Why not have a read of my blog all about 'How To Plan Your Wedding'
Follow me on Social Media: