Wedding Photography Portfolio
Are you adventurous, outdoorsy, different? Are you looking for a wedding photographer to match your personality? I'm Sarah and I'm a wedding photographer with a passion for all things outdoors. It could be micro-adventures through to epic winter days out in the mountains. Small dog walks in the local woods to miles of single-track mountain biking. This passion for being different, for breaking the mould translates directly into the images I love to capture to ensure you have photographs from your big day that really screams your personality.
I was born and raised in the Peak District, I love the great outdoors and I love shooting weddings in our stunning countryside. We have some of the most beautiful venues in The Peak District and the surrounding counties, with beautiful hill and moorland backdrops. Just imagine taking your wedding dress up to the crags of a gritstone edge where very few brides have ventured and having a photo to encapsulate that! See below for my portfolio of just these kind of photos.
I cover many locations – Derbyshire, Cheshire and South Yorkshire including Buxton, Hathersage, Chesterfield, Sheffield, Leek, Congleton, Edale, Castleton, Bakewell, Ashbourne, Hartington, Hayfield and many more.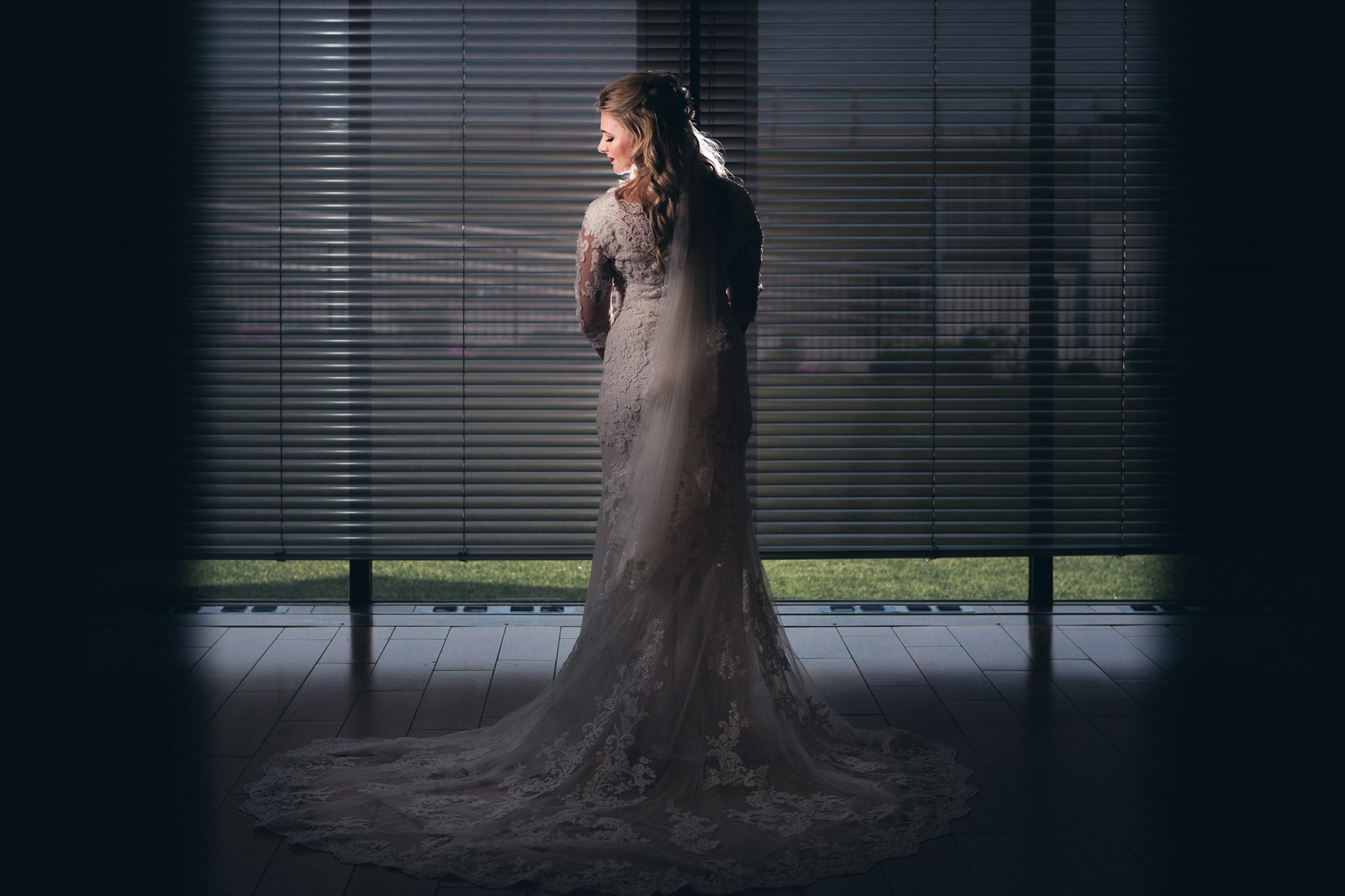 Creative Wedding Photography in and around The Peak District
You're probably sat in work or on the sofa, scrolling endlessly through wedding vendors, when you'd much rather be out having an epic adventure? If that sounds like you, keep reading!
It might seem like finding a photographer is another chore. However, your photos will be one of the few things that you have long after the wedding day. They will allow you to re-live the special moments of a day that inevitably will quickly pass by. Not all photographers will be suited to you, each have their own style. Choosing the right one to suit you and your personality should be a big consideration. Don't just select the one with the lowest price or because a friend had them a few years ago. Choose someone you want and trust to make your special day into perfect photos. Factor this in when booking to ensure your images are captured as you want to remember them.
What To Look For?
Not all wedding photographer's are the same, in fact most will have their own unique style built over many years of experience. Don't just look at the price, look at the photos and also the photographer. Inspect what you will be paying for and that it matches how you wish to remember your day. Does the photographer's personality align with yours? There are countless styles of photography such as candid, traditional, documentary, adventurous and many more. Think how you want to want to remember your big day. Next, think about how the photos look, not just in the style of shooting but also how they are processed. Whilst unedited photos suit some people, others prefer a particular style of final editing. Editing and processing is a large portion of a wedding photographer's work and ultimately represents an equal portion of the end result. Please take a look through my wedding photography portfolio on Instagram or Facebook for examples of my work which I have captured from over 8 years of experience.
My Wedding Photography Style
My style of wedding photography is discrete. I like to do my job without being noticed or disturbing the flow of the day. This doesn't mean i'm tucked away in a corner, I will always be around taking photos but being discrete allows me to capture natural and beautiful shots of people enjoying your special day. I take lots of candid shots to document the day as it is, though I do like the take the couple aside for a short portion of the day to capture the 'hero shots' of just the two of you. I love shooting beautiful, outdoorsy locations whatever the weather. My photography incorporates a mixture of natural light and flash to achieve my desired effect.
Prices & Packages
I have two wedding photography packages which can be seen on my Wedding Photography Prices page. My most popular package covers the preparations, the service, group and couple shots right through to the cutting of the cake and the first dance.
Nervous and Camera Shy?
Don't worry! With all my wedding packages, I offer a free engagement shoot prior to your big day. This allows you to get comfortable in front of the camera, get to know me and also ask any questions you may have about your big day.
Location
I cover areas within The Peak District, Buxton, Cheshire, Derbyshire, Manchester, Staffordshire, Snowdonia, Sheffield, The Lake District and many other places within the North West. If you are outside of these areas, please don't hesitate to contact me as I'd be happy to discuss weddings based all over the UK .
We have just received our photos from our recent wedding and we are absolutely blown away. They are fantastic!
Sarah was brilliant from the start and we felt so relaxed!
You have such a great talent – thank you so much!!! X
We couldn't be more pleased than we are with our wedding photos.
They are absolutely stunning and show that Sarah is a true professional.
She spent most of our day with us, from the getting ready to the first dance and was a quiet, calm, patient presence all day.
She managed to capture so many brilliant moments with a mixture of formal and informal pictures that all look amazing.
We are absolutely delighted and couldn't recommend her more highly.
Thank you so much Sarah for helping us to have so many perfect reminders of our wonderful wedding day.
Many many thanks
Debbie and J xx
Sarah captured our wedding on 3rd June. We hadn't seen the pictures yet but if her previous pictures are anything to go by we will be very happy. Sarah is a very remarkable and professional photographer who manages to slip into the background when you are having a private moment. I would recommend Sarah to anyone and everyone and I am so glad she was able to capture our day as I didn't want anyone else.
Such an amazing lady feels like we've made a friend for life xx
We have enjoyed Sarah's great service and professionalism throughout: from the initial exchange of communications to pre-shoot and then finally our wedding shoot, she has been very responsive and diligent (all questions we asked were addressed on the same day), I felt she really cared for our big day.

In the end Sarah has also turned around our album very quickly – within less than 3 weeks of the wedding day. The quality is great and it's great value for money.

Would definitely recommend Sarah for anyone preparing for their special day. Well done, and keep up the good work.
Sarah is an amazing photographer, she captured my daughters wedding on the 22/7/17 and we couldn't have been more pleased with her approach. On the day Sarah was very relaxed and coped well with us constantly grouping together and shouting for more photos! Sarah is such a friendly person and we would recommend to anyone.
I have received our pre wedding shoot photos and are over the moon!
Thankyou Sarah!
x
Sarah was the photographer at our wedding in September and was absolutely fantastic. She was always very responsive to our questions over e-mail and Facebook and always very friendly and professional. Sarah put so much effort into our Engagement photo shoot, even getting knee-deep in the water at Dovedale!

We had very specific ideas about some of the photos we wanted of certain things such as the dress hanging up and Sarah was very accommodating, going above and beyond to make sure everything was perfect. During the bridal wedding prep, Sarah was a pleasure to have around and was so helpful when everyone else was flapping.

When we first met Sarah, she assured us that she had a candid style of photography, and this was certainly the case; most of the time you would not even know she was there. It is so nice to have natural photos of our guests as well as the traditional posed photos.

Sarah was always working hard and is a very talented creative photographer, taking some very artistic shots. We are so pleased with the photos we received from Sarah and they provide a wonderful memory of our special day. Thank you, Sarah!
Sarah was highly recommended to us by a friend to photograph our wedding back in September 2016. From the moment I contacted her all the way through we had an excellent experience with Sarah. Our engagement shoot was wonderful, we were both a bit rubbish at having our picture taken but Sarah asked us what look we wanted to go for and it was wonderful! We had a good giggle and the photos were AMAZING! The service we received up to, on and after the wedding day was great and we couldn't have asked for more. Thank you Sarah for beautifully capturing our big day xxx
Sarah was our wedding photographer and was nothing short of fantastic. From the first contact we had with her she was professional and friendly. Sarah is really easy to get on with and it felt like we had another friend at the wedding, who was also a talented photographer! Nothing was too much trouble and Sarah stayed as long as we needed her to. Our guests commented on how hard she worked and we agree, she never stopped! She has some great ideas for shots and listened to what we wanted, as well as scoping out some potential locations for shots before the wedding, really putting lots of effort in to making sure everything went smoothly on the day. Our engagement shoot was cold and windy, but she never complained and carried on in her calm way. We have some stunning photos to remember our day by and would use her again for any future photoshoots. I also have to add she turned around the photos so quickly and they arrived on the cutest USB, it's the little things that make it all extra special
Had Sarah as our photographer. Lovely photos and very professional service.
We had Sarah as our wedding photographer, we found her extremely accommodating throughout the whole experience. She listened to the style we wanted and the kind of shots we wanted from our day and she delivered. The engagement shoot location was tricky but Sarah never complained and was professional throughout and captured some great shots. I definitely grew in confidence to pose as I usually don't photograph well but I was relaxed the whole time. Sarah did help me out with poses (do more of that, Sarah) which helped enormously. She's captured some lovely pictures of our 3 year old son who is very camera shy. I would definitely recommend her. Thanks Sarah.
I have had rather few photoshoots with Sarah now, beginning with my wedding photography! Sarah was available start to finish and nothing was too much trouble for her, she was very patient all through the day, even though it must have been an awfully tiring day for her! I have some amazing photo's that i will cherish forever! We have also had an Autumn themed shoot in the woods with my eldest daughter, Sarah was once again very patient, even when my daughter wasn't and started playing up a little, we have had a maternity photoshoot, which again, the pictures were fantastic, then a newborn photoshoot with a couple of family photographs! Sarah was again very patient and understanding, even with an 8 day old screaming baby! Finally she settled and the end results were more than worth it. I thank Sarah very much for the amazing photographs and memories that i now have! I would reccomend her 100% and then some! Looking forward to more photo shoots in the future! Thankyou!